Wednesday, 10 June 2020 03:18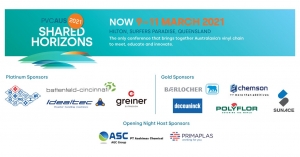 The Vinyl Council of Australia rescheduled its PVC AUS 2021: Shared Horizons biennial conference as a result of the Coronavirus (COVID-19) outbreak to May 24-26 2022 in the same location at the Hilton Surfers Paradise, Queensland.
Vinyl Council CEO Sophi MacMillan says that the decision to delay the event, originally scheduled for May 2020 and then postponed to March 2021, was taken due to understandable restrictions and concerns about travel and in the light of current government and health authorities' advice.
Sophi says: "The reality is that travel and joining mass gatherings remains largely restricted because of COVID-19 and the situation is unlikely to be fully resolved until 2022. Although some events have moved to online delivery, a key purpose and attraction of PVC AUS conferences is the opportunity to connect in person with peers across the vinyl supply chain.
"This is why we have taken this strategic decision together with our major sponsors to postpone PVC AUS, an event that attracts at least 150 local and international people, to next year."
Supporting PVC AUS: Shared Horizons as platinum sponsors are resin producer Formosa Plastics Corp, plastics extrusion technology leaders battenfeld-cincinnati, powder handling specialists Idealtec and Austria-based Greiner Extrusion GmbH. Gold sponsors include Baerlocher, Chemson Pacific, Deceuninck, Polyflor and Sun Ace. The Opening Night is sponsored by AGC Group PT Asahimas Chemical and PrimaPlas.
Sophi adds: "We have an exciting program lined up that will explore how industry might collaborate to find solutions to PVC circularity, reinforcing the material's role in a circular economy, as well as delving into issues and trends relevant to our industry, such as Building Code product conformance, certifications and Industry 4.0.
"In the coming months, we will continue to finalise a stimulating program within a safe environment for people to meet. Although it is disappointing to have had to postpone our event until 2022, we believe industry participants will welcome the chance to reconnect and network after a long period of travel and meeting restrictions."